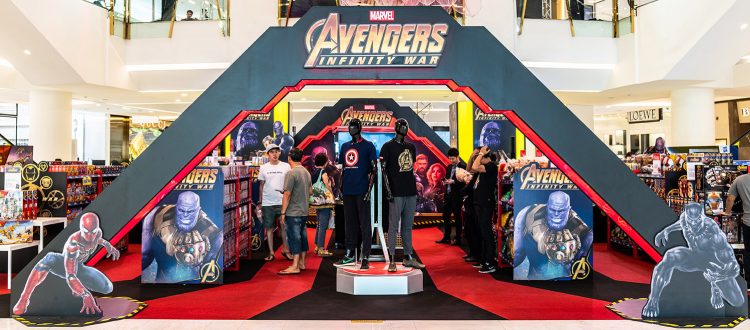 Infinity War Novelty Money to Share with Your Friends Until the Next Avengers Movie: You Know You Want It
The world has blown up with the phenomenon that is the Marvel Universe films. With almost 20 movies
and ten years of releasing these movies in theaters, what else could be better to round off the box office
smash of Avengers: Infinity War than with your own novelty money featuring it?
Novelty Money Making a Comeback
The Marvel movies have produced some of the highest grossing movies of all time. Black Panther
continues to dominate, going on a month since it's theatrical release. The premise behind the stories,
the comradery of the characters, and the bottom line in this latest movie – you can't defeat the ultimate
evil of the universe alone, no matter your differences, race, upsets, or anger.
Plenty of Marvel toys and paraphernalia have been created and sell out stores worldwide. How can you
keep things interesting and one up your group of mega fans of Marvel? Back in the 90's novelty money
was a huge market. It would be used in schools, games, and even rewards for chores at home. Some
offices even implemented it as a tool for making more sales! The 90's are definitely making a comeback
in other industries, in fashion and gadgets, so why not jump on board with it in novelty money and show
true originality that no one else will have!
What would be better to show your love and commitment of Marvel comics and movies than with
custom novelty money? Feature Thor, Thanos, Black Panther, Captain America, Iron Man, the Guardians
of the Galaxy or any character you want on unique, fake money. Make bets with it amongst your friends,
use it as part of your Marvel collectibles, and even start a new comic group with this as your logo!
The opportunities are many and the original style of it would be seen as priceless from your envious
friends and fellow fans of the Marvel universe. It can be hard sometimes to find something special that
hasn't been mass produced and stocked in every comic book store you know. Keep things interesting
with novelty money, which doesn't just have to be Marvel-inspired, it could also be:
The world of novelty money is your oyster here at Fake Million! Not only is it inordinary and not found
in stores, it adds an edge to your own collection that no one else will have.
Ordering Novelty Money at Fake Million
Take advantage of the popularity of Avengers: Infinity War and create your own Marvel novelty money.
Impress your friends and show uniqueness to your comic book collection for true authenticity to your
love of the Marvel universe. Novelty money is a great way to showcase your individuality and promote
an old-fashioned, popular option most people have forgotten to utilize.
It will certainly kick start new conversations and interest in times where the internet and cell phones
didn't rule the world. Use it as an invitation to a Marvel movie marathon or frame it to symbolize the
giant footprint Marvel has made on the film industry and to comic lovers all over the world. You'll
certainly be cool owning something custom and you could possibly start a real trend with fake money
again. Enjoy a classic with a twist by ordering your own custom novelty money with Fake Million today
and immortalize this iconic Marvel movie, Avengers: Infinity War!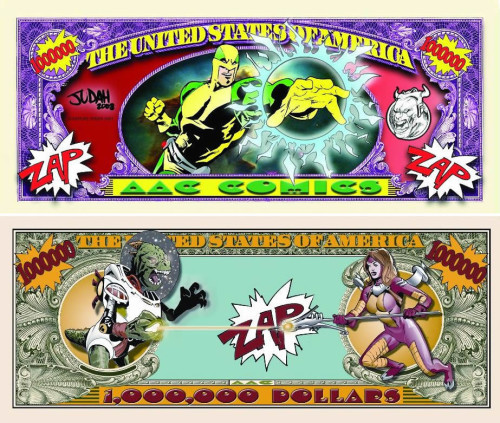 COMIC BOOK SUPERHERO MILLION DOLLAR BILL
This Special Edition Collectible Dollar Bill was designed by American Art Classics artist, Judah Dobin. Judah interned at Marvel comics and the characters on this bill are his own creation and were done exclusively for American Art Classics.