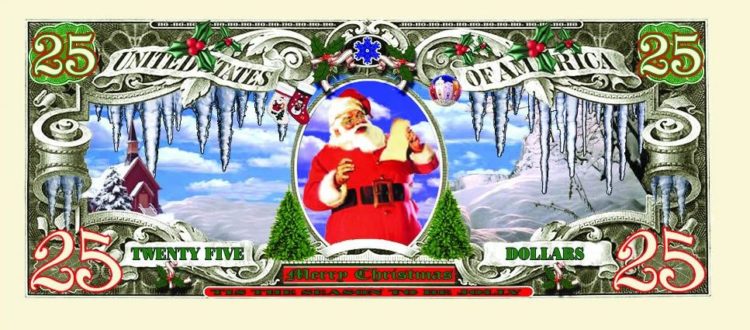 Give the Gift of Fun this Holiday: Why Everyone Loves Fake Money
Looking for great gift ideas? Let Fake Million help you out with this. We offer a huge selection of novelty money and fake money as brilliant gift ideas. These are cost-effective gifts, a sure gag and laugh, and they are unique and personal. We offer hundreds of different types of fake bills to meet every taste or liking. No matter who you are shopping for this holiday season, we will have novelty money printed in a style that will pique their interest.
Holiday Fake Money
Ever given fake money as a gift before? Well if you are the coolest person you know then you've probably done this before. If you are not the coolest person you know, but you are aspiring to be that person, then giving out fake money as presents will bump you up much higher on the coolness scale.
Where can you buy fake money? Right here at fakemillion.com. We are the specialists and experts on everything novelty money-related, and yes it is totally legal. As long as the bills clearly state on them that they are not legal tender (ours are printed in this way) you can purchase these bills and then do whatever you want with them. Just don't try to make purchases with them of course.
We carry a practically endless variety of our bills. We included a list of just some of our types of fake bills that are holiday-related. No matter the time of the year, fakemillion.com will have something for the occasion!
25 Dollar Christmas Bill
Beer One Million Dollar Bill (Drinking Money)
Black Santa Claus Million Dollar Bill
Chanukah "8" Eight Dollar Bill
Chinese Dragon One Million Dollar Bill
Cinco De Mayo Million Dollar Bill
Classic Santa One Million Dollar Bill
Easter Egg One Million Dollar Bill
Father's Day – World's Greatest Dad!
Happy Birthday One Million Dollar Bill
Happy Thanksgiving Million Dollar Bill
Holiday Cheer $25.00 Christmas Tree Collectible Novelty Money
Jesus/Christian Bills
Mardi Gras One Million Dollar Bill
Mother's Day One Million Dollar Bill
Nativity "Twenty-Five Million Angels" Bills
Nightmare Before Christmas Million Dollar Bill
Saint Patrick Four Dollar Bill
Sixty-Six Dollar Halloween Monster
The Fortune Teller Bill
The Grinch Million Dollar Bill
The Vampire Bill
The Virgin Mary Seven Dollar Bill
The Werewolf Bill
The Witch Million Dollar Bill
Thirteen Dollar "13" Happy Halloween Bill
Valentine's Day 14 Dollar Bill
Why Everyone Loves Fake Money
Fake money is a great gift idea because it is original. You can buy bills that pertain to a particular person's taste, so it becomes a very personal gift. The bills are humorous as well because it can let people pretend that they are flush, high rollers. These gifts count as gag gifts for their humorous implications, but they are also neat keepsakes too. A clean, crisp, well-printed novelty bill goes great on a mantelpiece or dresser.
You can buy these fake bills and use them for that purpose, or you can get some for yourself. They also make great party favors at office parties or church functions. You can even use them at holiday fundraisers to get everyone in the spirit of giving. All in all, fake bills have many uses, and they can be ordered in bulk for these uses. Plus, the best part is they are very affordable. Only a buck a piece! For all of your novelty money needs, let Fake Million help you out today. Scroll through our bill styles or use our search engine to find something specific and unique. There is something for everyone!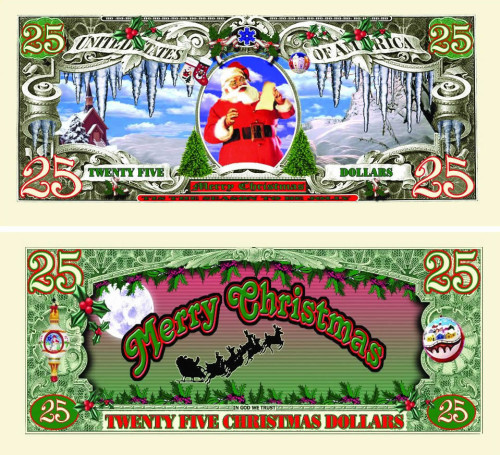 25 Dollar Christmas Bill
Our 25 Dollar Christmas Bill is printed on the front and back.  It is the same size as real US currency.  The 25 Dollar Christmas Bill is beautifully designed.  Use these 25 Dollar Christmas Bills in schools, at parties, sell them at retail stores, sell them in online auctions or use them in promotions. Our 25 Dollar Christmas Bill make for a great favor, gift or collection item.  All of our novelty money, funny money and fake money is extremely popular and can be used in hundreds of unique and fun ways. ALL OF OUR NOVELTY BILLS ARE 100% GUARANTEED TO BE THE BEST QUALITY.