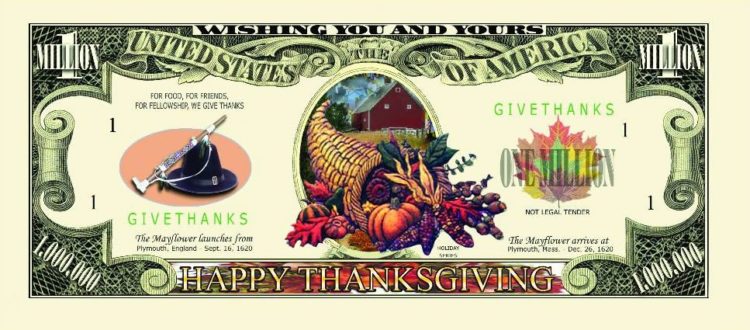 Give Thanks for Fun With Our Thanksgiving-Themed Fake Money
Thanksgiving is all about giving thanks, and while this has not traditionally been a holiday that involves gift giving, who says you can't give a few little gifts out around Thanksgiving? Really though, the holiday is all about giving thanks to all who are close to you and to all who care about you and to whom you care about, so why not give thanks to your loved ones with something other than a turkey? That would be cool.
Thanksgiving Fake Money
If you have a bit of a sense of humor, a great gift to give to your family members or loved ones is one of our Thanksgiving-themed fake money bills. We have a few variations of these here at Fake Million, and this novelty money is the neatest for being unique and cutting edge this Thanksgiving season. Some of the fake money bills we have for sale that have a Thanksgiving theme or a holiday theme are:
The Happy Thanksgiving Million Dollar Bill
The Beer One Million Dollar Bill (Drinking Money)
Black Santa Claus Million Dollar Bill
The Chanukah "8" Eight Dollar Bill
The Chinese Dragon One Million Dollar Bill
The Classic Santa One Million Dollar Bill, Etc.
We could go on and on and on, but the point is that we offer a lot of different bills for sale and for offering here at Fake Million. With Thanksgiving being the first major holiday of the holiday season, this is the best time by far where you can start getting your shopping done early, or at least get a head start on it.
Giving bills out like a high roller during Thanksgiving is a great way to get people into a good attitude and to sort of make everyone feel a lot better in general right off the bat. Money, even fake money, does seem to have an interesting and a unique way of uplifting people, which is certainly a great way to start off the holiday season.
Where Can You Buy Fake Money?
Where can you buy fake money or novelty money? The answer is right here! Fake Million has been dealing with fake money and novelty money for some time now, all done totally and completely legally. A lot of people do not this but it is totally legal and totally all right to purchase fake money. It is absolutely legal to sell the stuff too really. In fact, as long as any fake money has some clear lettering on it alluding to the fact that the money is fake (which is really pretty obvious in all honesty), then people are able to purchase it and it is legal for being made, stocked, sold, and owned.
Fakemillion.com has the best variety of novelty and fake money, with much more coming in quite often. Fake Million also has some of the best deals out there too. Reach out to Fake Million and start taking orders so you can enjoy Thanksgiving and share all the Thanksgiving love right away! Fake Million offers all of their bills at a buck a piece, so these will be the most affordable gifts that you have ever gotten from someone. With character and styles unique to individuals' tastes, Fake Million's inventory of literally hundreds of different bills will make a huge difference in giving people the right gifts and the right bills that they want. The holiday-themed bills especially, and with their exquisiteness, these bills can make great party favors and conversation starters too, particularly for all of those awkward talks with the in-laws! Buy your fake money today!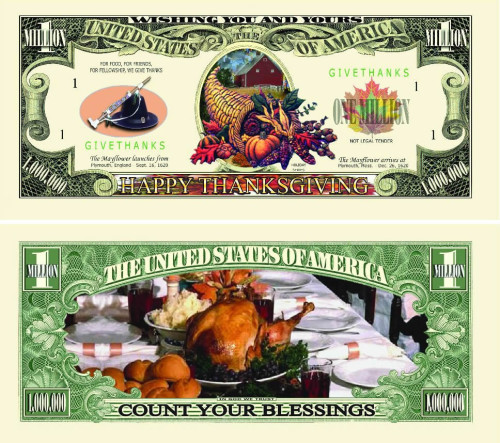 Happy Thanksgiving Million Dollar Bill
Our Happy Thanksgiving One Million Dollar Bill is printed on the front and back.  It is the same size as real US currency.  The Happy Thanksgiving Million Dollar Bill is beautifully designed.   This Happy Thanksgiving item makes a great gift.  Give thanks and give our very unique Happy Thanksgiving day novelty bills to all your friends and family. Great to use for arts and crafts at school as well. Children love our novelty fake money.  Each novelty note is approximately the same size as real U.S. currency.  All of our novelty money, funny money and fake money is extremely popular and can be used in hundreds of unique and fun ways. ALL OF OUR NOVELTY BILLS ARE 100% GUARANTEED TO BE THE BEST QUALITY.