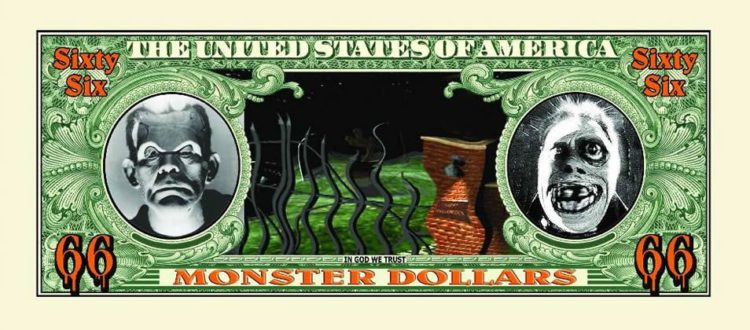 Get Spooktacular with Our Halloween-Themed Fake Money
As Halloween is coming around the corner, we start thinking of ways to best celebrate this year's special day. For many, Halloween is the favorite holiday of the year, and not without good reason too! Halloween certainly has some special significance, and it is just sort of a holiday that everyone can enjoy, no matter who they are or what they are all about. This holiday does not have to have religious significance, and it can be enjoyed by both young and old alike.
When you are trying to decide how to decorate for this year's spooky season, we at Fake Million have some great ideas for you! When you are considering how to decorate, why not pick up some scary and frightening fake money or novelty money? And where can you buy fake money? Right here at Fake Million.
Halloween Fake Money
Fake money is totally legal, and totally fun. Fake paper bills can be used as decorations for your Halloween bash, they can be used as party favors, and they can be used even to give out to trick or treaters! What a great, cool gift! Instead of candy, why not give kids something that will not be unhealthy for them and will be super cool instead? Better to have kids walking around feeling like high rollers with some cool fake bills in their candy bag than just a bunch of candy.
At Fake Million, we love Halloween. In fact, we love Halloween so much that we have made a point to include as many Halloween-themed bills in our online collection. Halloween is a fun time for all of us here at Fake Million, and we have capitalized on the Halloween celebration by including as many Halloween-themed bills in our inventory as possible. Here are just a few of them:
The Vampire Bill
The Werewolf Bill
The Witch Million Dollar Bill
The Friday the Thirteenth Bill
The Nightmare Before Christmas Million Dollar Bill
The Sixty-Six Dollar Halloween Monster Bill
The Spooky Fortune Teller Bill
These are just a few of our favorite Halloween bills here at Fake Million. We have many others!
Fake Million
At Fake Million, our goal is to offer as many bills to our customers as possible. Fake Million has an inventory of literally hundreds of different types of fake money and novelty money. These types of bills and paper money are fun and cool and well made. The pictures and designs on them are clear and well printed, and the overall appearance of them is high in quality. Best of all, each fake bill is only a buck!
At Fake Million, you can get all of your shopping done in one place. Want to get some fake bills that will work for Halloween but some more bills that will work for Christmas gifts? Fake Million is a great place to get all of these! Novelty money also makes great office gifts too, as you can get a lot of them and give one to each co-worker without having to spend a lot of money on it.
Shopping for different types of bills at Fake Million is easy to do. We have organized all of our bills into different categories for your ease of shopping. Our goal has been to make sure we have something for everyone. We have categories like:
Animals
Authentic-Style
Casino
Celebrity
Classic Car
Classic Horror Film
Dog Breed
Fund-Raising
Historic
Holiday
Military
Misc.
Outlaw
Party
Presidential
Religious
Space
Sports
US Post Office
US States
Zodiac
At Fake Million, there truly is something for everyone!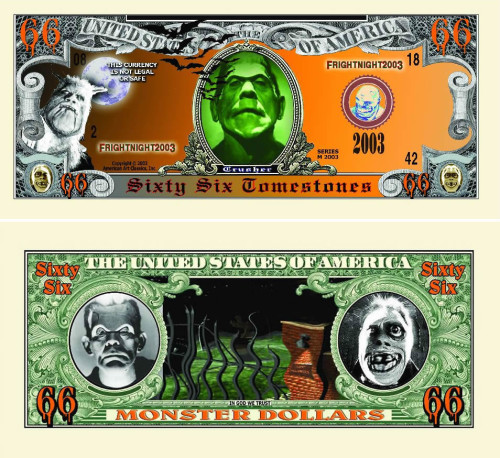 Sixty Six Dollar Halloween Monster
Our Sixty Six Dollar Halloween Monster is printed on the front and back.  It is the same size as real US currency.  The Sixty Six Dollar Halloween Monster Bill is beautifully designed.  Use these Sixty Six Dollar Halloween Monster Bills to sell at specialty stores, sell them in online auctions or use them for Halloween party favors.  All of our novelty money, funny money and fake money is extremely popular and can be used in hundreds of unique and fun ways. ALL OF OUR NOVELTY BILLS ARE 100% GUARANTEED TO BE THE BEST QUALITY.