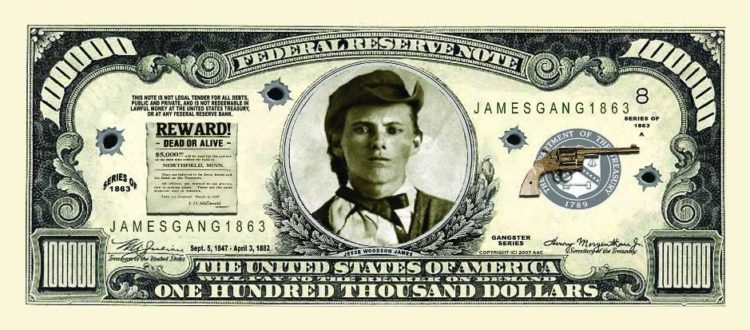 Make Poker Night Criminally Fun with Our Outlaw-Themed Fake Money
Everyone is always looking for a way to spice up the evening, and when poker night comes around, throwing down some cool looking fake bills is often the best way to do this. Poker is sort of a seedy, shady activity, so why not spice up the experience with some good ol fake money that works with the theme? This is also a great choice for an individual is interested in using fake money in the poker game too, as opposed to real money. So novelty, criminal-themed money has the great effect of really helping people in their poker game by either acting as the actual money for use in the game or just as decoration to sort of set the mood and the tone for the night.
At Fake Million, we have many outlaw-themed bills. All of these would go great in a poker game, as who can forget one of the classic characteristics on the ol' outlaw was a proclivity for always being found in gambling houses? For the bills that Fake Million offers, consider the following bills like:
The Al Capone $1,000,000 Bill
The Baby Face Nelson $1,000,000 Bill
The Billy the Kid $1,000,000 Bill
The Bonnie and Clyde $100,000 Bill
The Jesse James $1,000,000 Bill
The John Dillinger $100,000 Bill
The Pancho Villa Collectible Bill
The Pretty Boy Floyd $100,000.00 Bill
Where Can You Buy Fake Money?
A lot of people want to buy fake money, but they are somewhat unsure of the logistics or the legality of this. They want it, that much is clear, but they just don't know if they should legally be buying it.
Well here is the skinny on that. When it comes to fake money or novelty money, as long as any fake bill or coin has clearly printed or stamped on it somewhere that is visible and easy to see, "Not legal tender" then it is fine. One does not need a special license to sell fake money and one doesn't need permission from the government to purchase fake money.
The stigma of counterfeiting sometimes scares people away from buying fake money, but one can buy all the fake money they want in any category they want right here at Fake Million. Fake Million has literally dozens of different categories and hinders of different bill styles to meet the needs and interests of any aspiring customer.
Great Novelty Money Ideas
For anyone who carries an interest infamous outlaws, in good ol high rollers who looked good while doing it, or for anyone who just likes history in general, these are also great gifts too. Fake money, in general, is a great gift, as novelty money comes cheap but leaves a lasting impression and is unique.
Fake money is also a great party favor too. At one buck a pop, you can buy a hearty dozen or two or three of an assortment of different and neat bills, (we are just loving the outlaw bills right now), and use them as party favors for your next themed jig. With the outlaw bills, these will make such an impression that you'll be seeing through poker faces in no time. What we love about these bills is that they actually have the photographed faces of the actual outlaws on them, a good history lesson to us on what they looked like. Plus, the bills also contain pictures of the guns or vehicles the outlaw used while running around committing huge robberies. All in all, these bills are very cool, very stylish, and perfect for various events or as gifts.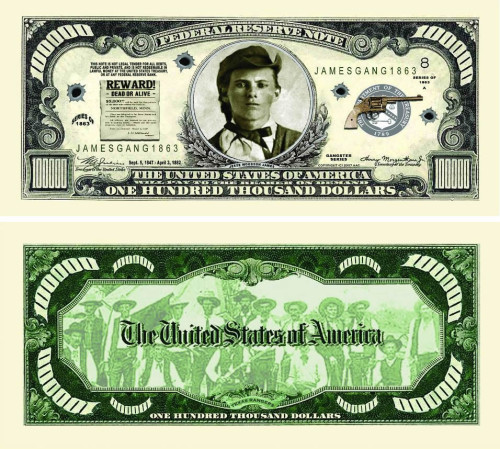 Jesse James $100000.00 Bill
This Special Edition Collectible Dollar Bill CERTIFICATE SERVES TO RECOGNIZE ONE OF THE EARLIEST GANGSTERS!! The PERFECT gift for Jesse James and Wild West buffs!