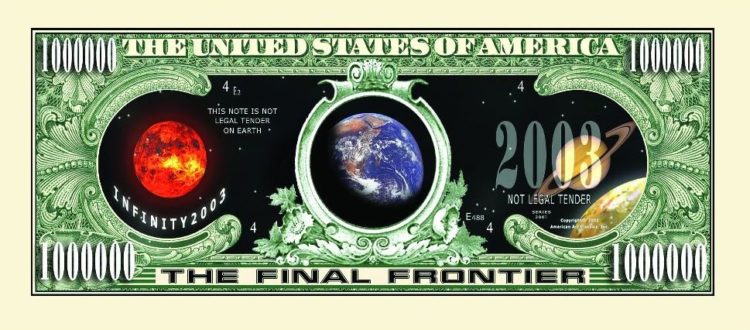 Novelty Space Money: May the Fun Be With You
Novelty money and fake money are great gift ideas, great tokens, awesome party favors, and cool personal gifts for you. Novelty money is a very interesting and fun to us, often because there is something for everyone with the literally thousands of different styles that novelty money comes in.
Most people can get really excited about getting a fake million dollar bill because it can make people feel like a high roller. Fake money is fun to play with because it is goofy and silly. It is very non-serious.  Real money is so serious, and we usually don't play with it. Actually, we often get pretty stressed out about real money. Fake money and novelty money, on the other hand, is quite joyful and can even be relaxing on the whole subject.  Have a friend or family member who is having money problems?  If you can't afford to help them financially, send them a few fake, gag bills. They'll get a few good laughs about it, and they'll probably feel a lot better about the whole thing as a result.
Novelty Space Money: A Gift that's Out of This World
Novelty money comes in all different styles and types.  It is one of the most diverse gift ideas out there. One style of novelty money that is quite fun to buy for oneself or to get as a gift for someone else is that of space money. Some great space-themed novelty bills are:
Novelty bills are fun because they have multiple different uses, and they can give us joy in multiple different ways. Novelty bills and fake money are great and fun, and they can be bought as tokens, decoration, party favors, gifts, props, school items, historical pieces, office gifts, presents, etc. Novelty money is instantly relatable because of all of the different styles out there. With literally thousands of designs, it is safe to say that there is something for everyone when it comes to novelty money.
Space money is just one kind of novelty money, but it is one of the most liked.  Check out our other styles today!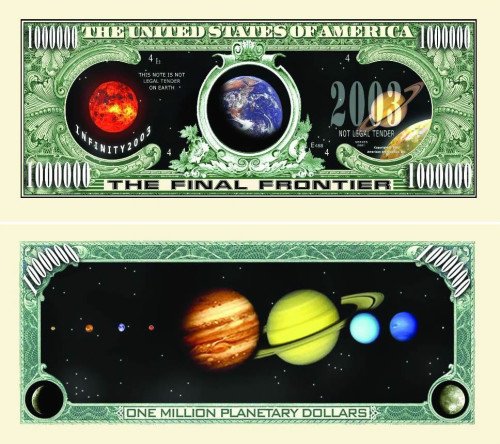 Solar System One Million Dollar Bill
Our Solar System themed novelty money is printed on the front and back. It is the same size as real US currency. The Solar System One Million Dollar Bill is beautifully designed. Use these Solar System Million Dollar novelty bills in schools, at parties, sell them at retail stores, sell them in online auctions or use them in promotions. Our Solar System Collectible One Million Dollar Bills make for a great gift or collection item. All of our novelty money, funny money and fake money is extremely popular and can be used in hundreds of unique and fun ways. ALL OF OUR NOVELTY BILLS ARE 100% GUARANTEED TO BE THE BEST QUALITY.