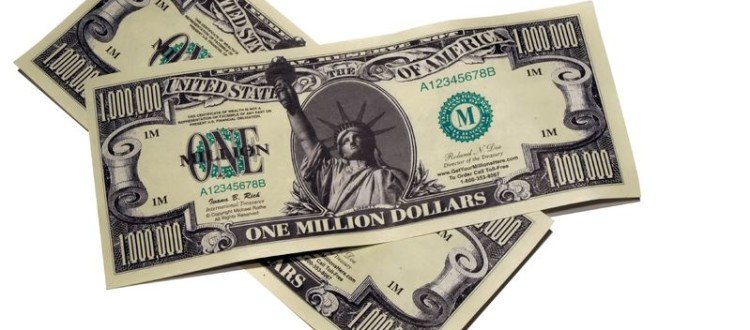 5 Most Popular Types of Fake Money
There are so many different varieties of fake money out there, that a lot of interested buyers wonder which ones are the most common, the most inventive, and the most popular.  Inherently, fake and novelty money is mostly all about the person's interests.  The whole idea of being able to buy a fake million dollar bill with almost any type of design on it is that you can practically custom select ones that are interesting to you, or to the person who you are buying for.
And that's really the beauty of fake million dollar bills and of fake money in general.  Just on this site alone, we have literally hundreds of styles of million dollar bills that you can choose from.  On this page here you can see an index of all of the different categories offered, with each having several different styles of bill in that category.
As for popularity though, there are a few that tend to take the cake.  These are:
Fake money makes a fun, humorous, and intelligent gift.  It's quirky and thoughtful at the same time.  Fake money is also immensely affordable, at only a buck a bill.  It's easy to pick several of them up and only spend a couple bucks, and then be able to share the love with your friends and family members.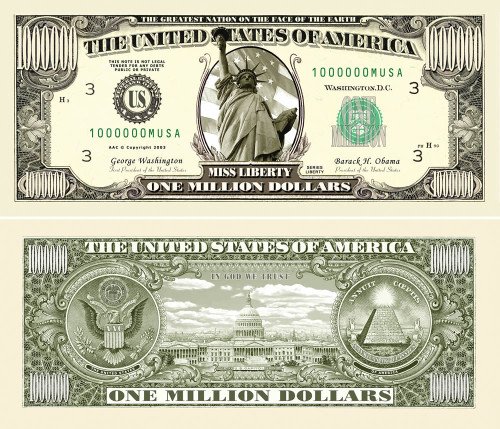 Traditional One Million Dollar Bills
Our Traditional One Million Dollar themed novelty money is printed on the front and back.  It is the same size as real US currency.  The Traditional Million Dollar Bill is beautifully designed.  Use these Traditional Million Dollar novelty bills in schools, at parties, sell them at retail stores, sell them in online auctions or use them in promotions. Our Traditional Collectible Million Dollar Bills make for a great gift or collection item.  All of our novelty money, funny money and fake money is extremely popular and can be used in hundreds of unique and fun ways. ALL OF OUR NOVELTY BILLS ARE 100% GUARANTEED TO BE THE BEST QUALITY.