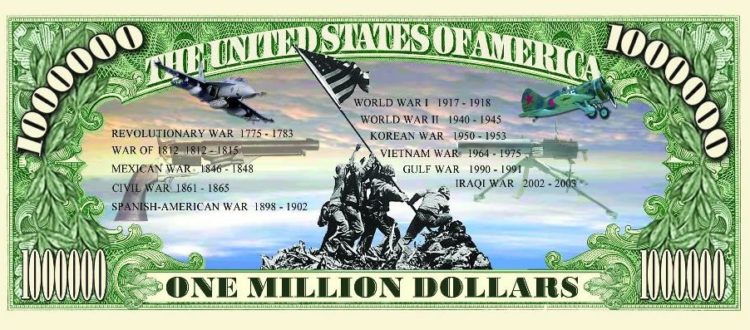 Celebrate America's Independence with Military-Themed Fake Money
It's finally summer and we are in that time of the year that people gather in groups, barbecues run rampant, and parties are held on every block.
What better way to spruce up your next Independence Day bash than with fake million party favors? Americans love their patriotism, their military, their guns, their freedom, their independence, and their money. Well, here at Fake Million, we have really cool, million dollar bills that represent all of these things!
Fake Money
Fake money and novelty money is a great way to set a good mood and a good vibe at any event or party. And where can you buy fake money? Right here at fakemillion.com! We have lots of different bills that represent our military, our gun rights, our patriotism, and our passion for freedom. We have bills such as:
2nd Amendment One Million Dollar Bill
9/11 Justice Osama Bin Laden Victory Bill
American Patriot One Million Dollar Bill
Centcom (Central Command) One Million Dollar Bill
Confederate/Dixie Bill
Operation Desert Storm One Million Dollar Bill
Pearl Harbor One Million Dollar Bill
POW One Million Dollar Bill
Proud American Eagle
Purple Heart One Million Dollar Bill
Seabee Million Dollar Bill
Support Our Troops One Million Dollar Bill
S. Coast Guard Million Dollar Bill
S. National Guard One Million Dollar Bill
S. Air Force Commemorative Million Dollar Bill
S. Army Commemorative Million Dollar Bill
S. Marines One Million Dollar Bill
S. Navy One Million Dollar Bill
Veterans of War, Thanks a Million Dollar Bill
VFW Veterans of Foreign Wars Million Dollar Bill
Women in the Military Commemorative Million Dollar Bill
World War I Commemorative Million Dollar Bill
World War II Commemorative Million Dollar Bill
As you can see, we have many, many choices that our customers can pick from to help them celebrate this year's Independence Day.  These bills aren't just for Independence Day either. They can also be used to celebrate other great things too, like our military, our veterans, our freedom, our patriotism, our gun rights, our insistence on life and liberty for all, and our other, very strong American traditions.
Take a look at Fake Million's wide selection of over hundreds of different bills to choose from in dozens of different categories and enjoy shopping our store! Our goal and mission is to meet everyone's needs, so we try to have a little something for everyone.
Fake million dollar bills and novelty money, in general, have multiple uses. They are great gifts for someone, especially for that hard to shop for person. Everyone loves getting money as a present, even if it is fake money. In addition to that, people love getting cool little gifts and fake million dollar bills, they only cost a buck a piece, so they are some of the most affordable gifts out there.
Fake money and novelty money are great party favors. Getting ready to celebrate some event? Buy a bunch of fake million dollar bills for only a buck a piece and go all out acting like high rollers at your next bash. These are great ways to spice up any party and to keep it exciting and interesting.
Fake money and novelty money are great presents for large groups of people too, like your co-workers or the members of your group or team. This is easily the best way to jump forward a bit and to really see your popularity soar! Check out Fake Million's selection today.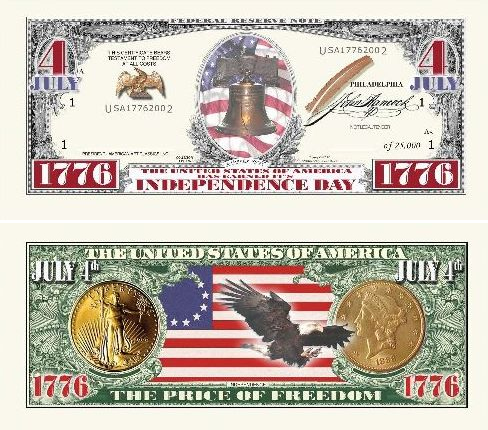 LIMITED EDITION INDEPENDENCE DAY BILL
Limited Edition Independence Day Collector's Dollar Bill!! America has seen much change in the last 200 plus years – and especially in this last year. It is important to remember the foundation upon which our great nation was built. American Art Classics is proud to present this unique, Limited Edition Independence Day Collector's Dollar Bill. Only 25,000 of these bills will be issued. Each one will be hand signed and numbered by the President of American Art Classics and will come enclosed in a protective Mylar currency presentation sleeve. These dollar bills will not be available very long, so order yours quickly before they are sold out. This hand signed and numbered special edition will not be issued again!